Technics SP10mk3 Professional Direct-Drive Turntable Motor Unit
The SP10 started life in 1970 as a servo-controlled motor unit designed for studio use.
In 1975 the much improved SP10 mkII (1975-81) was introduced with Quartz-locked speed control and external power supply; this is the version which found its way into many studios, replacing ageing Garrard 401s and the like.
For serious professional use the SP10 mkIIP version (as used by the BBC) provided full, wired remote control of start/stop and speed functions and added a stepped pitch control.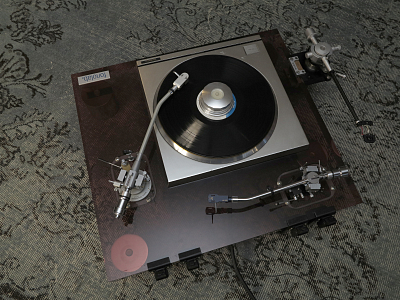 The final version was the SP10 mk3 (1981-87) - this behemoth sported a 10kg platter and sophisticated power supply with digital readout of pitch.
The SP-10mk3 is offered by Technics as being the best turntable that they make; it is certainly among the best turntables offered by anyone. If you are in the market for a rugged, heavy duty turntable which would hold up well in day after day use and has broadcast type professional features, you should check it out.
Specifications:
Motor: brushless DC motor, electronic rectification, quartz-controlled phase-locked servo circuit
Plater: 320mm, 10kg copper/aluminium
Speeds: 33, 45 and 78rpm
Pitch control: 20%
Starting torque: 16kg-cm
Build up time: 0.25s to 33rpm
Braking time: 0.3s from 33rpm
Speed fluctuation by load changes: 0% within 10kg-cm
Wow and flutter: 0.015% WRMS (JIS C5521)
Rumble: -92dB (IEC 98A weighted)
Dimensions: 369 x 113 x 369mm
Weight: 18kg